We created Nordinary Home with the idea to help You choose the most interesting, sustainable and aesthetic pieces for Your home, Your studio, Your workplace, Your designs. 
The pieces, which are made with durable and natural materials so they will last and increase in value with time. The pieces with an uncompromisable attention towards design, craftsmanship and creativity. The pieces that immediately create a special atmosphere.
The pieces that are nothing but ordinary.
With all this in mind, we care a lot about creators behind those designs. There are people with unique ideas and stories – so let us introduce them to You.
STOFF Nagel
The very first time we saw the STOFF candleholder was in a vintage design auction – bids going high, people lurking to win an iconic object of art. Only one glimpse – and we've fallen in love with the STOFF designs as well.
It is fascinating how an engineering mind could create such elegant, sophisticated, ingenious objects of art  – You can stack candleholders, vases, bowls together as much as You want and they still look graceful and refined. 
Yet the story behind the creation is also very unique.
Twenty years before the STOFF Nagel candle holder ever saw the light of day, an idea glistened within the Nagel family. They were deeply affected by the recent end of World War II and the repeated bombings that had largely leveled the nearby city Cologne to the ground.
In an effort to create a new livelihood, the Nagel family blacksmiths started to transform remnants of the war into ashtrays, vases and candleholders. It was the father's beautiful works that inspired four Nagel brothers to apply for Cologne Art School.
Merely 20 years after the war, one of the brothers, Hans Nagel, met the architect and artist Werner Stoff. Nagel told Stoff that he was struck by an idea during a skiing vacation in the Alps where an accidental backward tumble forced him to break the fall with his hand, thus creating the finest three finger-holes in the snow. The perfect holes brought a candleholder to mind—a beautiful, sculptured and simple candleholder with room for three slim sticks.
Nagel asked Stoff if he would like to make the design for him? This question launched an adventure much like humankind's desire to reach the moon, motivated by the vast technological achievements of the decade and honed by the boom in individualist expression. Considered in this light, it may not be so strange that it stands anchored by three legs, casting a sleek, chilly glow with its three domes hovering over a moon-inspired landscape. It is considered a work of art—a personal statement and malleable sculpture ready to assume the shape of its owner's unique creativity. 
The STOFF Nagel candleholder launched with great success in the late 1960s and the item turned things around for the Nagel family, making their company world-famous. Until recently, the STOFF Nagel candleholder has been unavailable in stores, but Danish design company 'STOFF Copenhagen' has resuscitated the iconic piece using Nagel's original drawings.
KRISTINA DAM STUDIO
While the STOFF brand goes back to the 60s, going through stages of success and becoming iconic, there are some contemporary brands definitely worth Your attention.
We'd like to introduce KRISTINA DAM – furniture and design object creator, producing beautiful and sculptural minimalism with a contemporary reminiscence of such beloved Bauhaus.
It is a truly Nordic design – Kristina Dam is a Danish architect and illustrator herself, so all her designs have very unique, memorable lines and shapes and they go together extremely well. 
We are truly fascinated by how simple everyday objects such as tables, cups or bowls look as modern sculptures giving an artsy atmosphere to every interior. Sophisticated, aesthetically beautiful and easy to fit into any space or home – isn't it exactly what we – design lovers – look for?
What is even more important – everything is made from natural, strong materials ensuring longevity and durability. This means the true sustainability for us – things that last are things worth investing in. 
Kristina Dam Studio was created in 2012, with the initial design idea for the studio to create industrial designs that had a more art-based approach. The idea of making art and interior design merge, both in furniture, accessories, art prints and illustrations. 
There are 3 main points of KRISTINA DAM design approach that we love:
Honest materials: the brand uses honest, genuine, natural and carefully selected materials. Majority of the designs are produced within the European Union and the brands pay a big attention to fair production. 
Sculptural minimalism: the major lines in the designs are graphic and architectural. A high level of details and pristine craftsmanship are key as well. Kristina Dam Studio furniture pieces are assembled with spigot joints and dowels and produced in natural materials. You'll find the same love for details in all of your designs.
Sustainability and durability: the choice of materials and attention to details are key moments for designs that last decades and even centuries. We encourage You to buy things You could proudly share with your children and grandchildren in the future.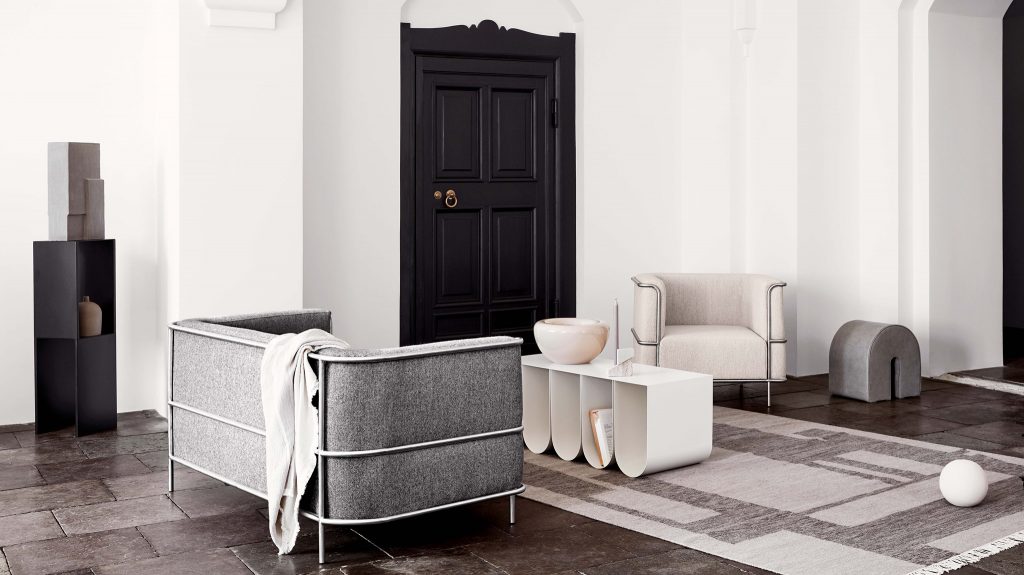 We hope that you will truly fall in love with these fantastic creators too.