No, these are not alien swear words.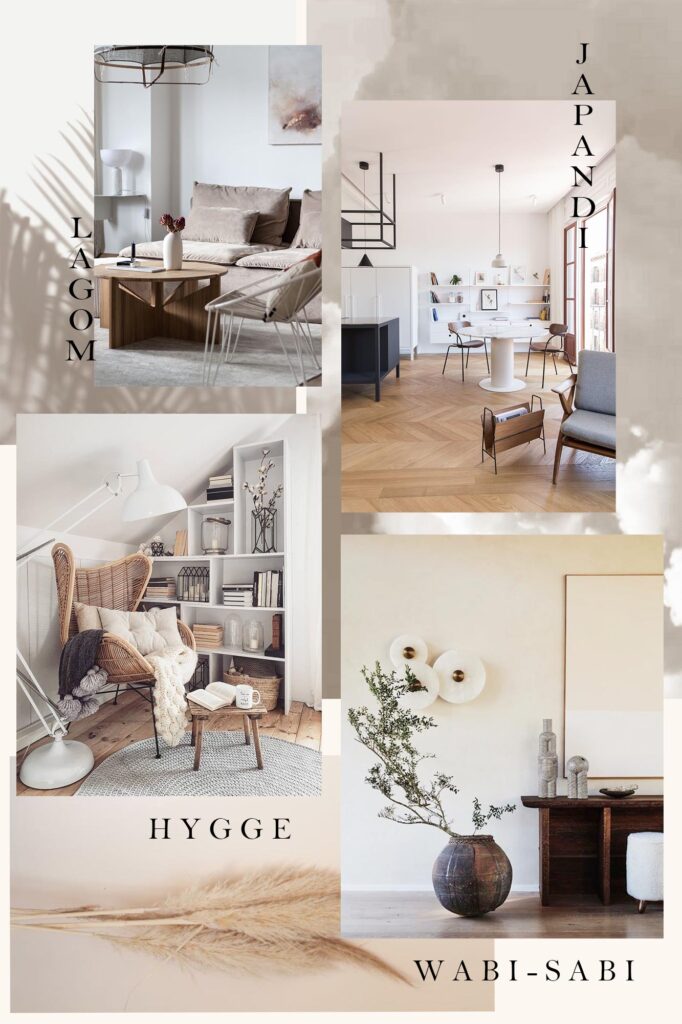 If you have a feeling as if I'm speaking some bird language – don't worry, you are not the only one. These strange words came into our lives not that long ago and actually changed things in the design world A LOT.
With the success of Pinterest and Instagram, the world had kind of shrunken down and good design became as approachable as never before: we just fell in love with the word (and design!) "scandinavian" or "nordic", meaning there's going to be something woody, cosy, homy and high quality. After the huge success of the Hygge – a beautiful cosy clutter – more sophisticated nordic styles emerged, giving people many ways and ideas to design their homes.
So let's dig deeper and find out which one of those trendy interior styles might be your favorite?
Hygge
This term is so well known that I believe no introduction is needed. I also very much hope you're reading this blog whilst sitting on your suuuper comfy sofa, wrapped in a warm knitted blanket, drinking a cup of tea or cacao and having your hygge moment. In other words – extreme cosiness – is the best way to describe this interior style.
Although Hygge interiors are not that trendy anymore, I guess it will never go out of our lives. Honestly, there is no reason it should – this decorating technique is perfect for small apartments, student houses, cabins, interiors on a tight budget, etc.
The only thing I'd suggest on how to master Hygge styling nowadays – be sustainable. This means go vintage, reuse your grandmas' vases, check some thrift stores and auctions, mix in some good long lasting quality designs.
Hygge main features:
perfect for small spaces, low ceilings, simple layouts,
best used in little apartments or cabins,
it is a bit rustic but in a soft Scandinavian way (hence white plank walls, bleached oak flooring, rough wood and wicker details) – very different from rustic American style,
it is all about cosy details: knits, pillows, blankets, frames, vases, books,
there are always some big, preferably knitted, blankets on sofas and beds,
candles – they are probably what defines hygge the most, they must be everywhere, alone and in groups,
rugs: white with black details or jute rugs,
open shelves, cupboards with different cups, mugs, plates – like a modern granny style,
a lot of plants everywhere,
wall panelings and cabinet mouldings are a big yes,
some homey clutter is ok,
mostly used color scheme: plain white, warm grey, mint green.
Lagom
While Hygge inspired homes are all about cosy thingies around, Lagom styled interiors introduces us to a bit more sophisticated approach. The main idea of Lagom – the exactly right amount – asks us to tone everything down and embrace some cosy minimalism.
Lagom is where you choose only a few favorite pieces to decorate your home – but make them stand out. It is a unique and sleek interior style, where everything must be thought through and very well balanced, though it is not as "tidy" as a real minimalism. We still have our beloved Scandinavian cosiness here yet everything is kind of opened up, airy and less chaotic.
Don't forget that Lagom is also a lot about changing your lifestyle: be more sustainable, buy less but better quality, try to free up your inner and outer worlds from unnecessary things.
Lagom main features:
perfect for bigger, more airy spaces with big windows, heigh ceilings,
best used in houses, bigger lodgings, penthouses,
less rustic than hygge, but natural materials is a go,
all about balance: decorating with a few things that stands out,
the design comes from the idea of a minimal lifestyle,
good quality statement furniture – a must,
glass, mirrors, everything else that makes your space more airy is welcomed,
few good art pieces are more than enough,
greenery is welcomed, better fewer but bigger plants,
declutter: your cupboards and shelves must be very tidy,
have around only those things you really use,
color scheme: mostly white, beige, creamy.
Japandi
One step further from Lagom, we enter a world of probably the most trendy and instagramable Japandi – a beautiful mixture of Japanese clean lines, Hygge cosiness and Lagom focus on long lasting sustainable furnishings and decorations. While Hygge is easy to distinguish with it's want-to-drink-hot-chocolate-here-all-evening styling, Japandi and Lagom is actually very similar: emphasizing slow living, decluttering, appreciation of quality craftsmanship and bespoke furnishings.
However, I find Japandi to be a little bit more atmospheric, hidden, even a bit mysterious. Japandi is also very minimal, but it uses deeper and darker, more earthy colours as well as a mixture of rustic textures and clean lines.
Japandi main features:
perfect for both small and big spaces, preferably floor-to-ceiling windows as a japanese signature,
best used with quality architecture, natural building materials: bricks, concrete, wood, glass,
rustic with a hint of craftsmanship,
all the natural materials, mixture of light and dark wood,
focus on artisan mastering and sleek design,
invest in quality – it makes the whole difference,
imperfect textures creates cosiness,
furniture, lights, vases – should be statement pieces,
hidden and hue light to create atmosphere,
everything is a bit lower, literally down to earth – shelves, beds, sofas,
give a try to traditional japanese materials/designs: shoji paper, bamboo, paper lights, silk and linen.
use elegant plants in the right amount (vases with pampa grass, bonsai, twigs, dried plants),
wood is very important,
color scheme: monochromatic, everything earthy, but toned down (beige, terracotta, light browns, light khaki).
Wabi-sabi
The last, but not the least: a very loved and appreciated – wabi-sabi inspired interior style. Within this style we may go even deeper to Japanese aesthetics and way of thinking. Embracing imperfections is the key moment here: it creates a loving, inviting, personal and… touchable space.
I personally find Wabi-sabi the most grounding style and the one most in touch with human emotions and senses. Precisely the touch here is equal to a glaze and sometimes even stronger – think about running your fingers through a warm rough wood, cold stone or textured walls covered in clay.
Wabi-sabi is all about senses – and mostly the ones that are inside us.
Wabi-sabi main features:
the size of the space is not really important,
probably wouldn't go well with very contemporary, sharp architecture,
very rustic but in a soft, delicate, gentle way – nothing rough and bold,
extremely natural materials within their primary form,
mixing artisanal, antique decorations with modernity,
focus on very unique, even rural looking furniture and decorations,
there's nothing sharp in this style, everything is imperfect, sketchy, but full of live within,
deep textures are everything,
no direct light – create atmosphere with cosy lights, candles, fireplace,
use and mix a lot of fabric: linen, wool, silk, cotton.
all forms are curved, unsymmetrical, very nature-like,
wisps and twigs are more used than greenery,
color scheme: darker earthy tones, no whites, very deep and subtle colours (sand, terracotta, ochra, moss green ).
It is fascinating for me how the Nordic style evolved into many different ways of expressing emotions.
Are any of these styles describing your dream home? Or do you see it completely different? Comment below.
And let us help to find things that emphasize YOU,
Nordinary home.