We – Kamile and Viktorija – are saying a big Hello to you, our dear reader and good design lover.  Let us give you a little introduction of who we are and why we've started the Nordinary Home.
As much as we would like it to be otherwise, our story is actually quite ordinary: we are two friends working in two different fields (interior architecture and investment management) who wanted to put our experiences, knowledge and insights into action. Every time we meet there are endless discussions about design styles, dream homes, interior aesthetics and all the things that make our spaces at least a little bit less ordinary. As conversations followed deeper conversations, plans followed bigger plans, we understood that there was no way back – something far from ordinary had to start.
Hence Nordinary Home has come around! A bit Nordic, and a bit Not Ordinary. We see it as a platform to share some educational, insightful and professional information about interior aesthetics as well as to offer exceptional and carefully selected home decor pieces. 
Nordinary Home promises you an extraordinary approach of purchasing beautiful design objects where we will help you and lead you by telling stories, sharing tips and giving advice from a professional interior architect.
But let's begin our design stories!
Photocredit: Unsplash
2021: the year of hope, shifting attitudes and paying attention to our homes. 
Will the trends change with the change of our lifestyles?
You've probably noticed that every year brings out a huge buzz around trends: the one and only colour of a year (which in fact is nothing than a fun marketing game – and it's only up to you to play it this time or not), questions about marble still being in fashion, suggestion for wallpapers to cover your walls (what's wrong with flamingos you'd bought last year?), and what about all those brass details we're all still so much in love?
Well, relax. All those trending trendy trends (emphasis on "trend") are mostly for the fast design brands and interior designers: we use them for staging, decorating and… inspiration. We go to design fairs (well, used to..), we read design portals as a part of our morning routine, we buy tons of magazines and stack them everywhere around 🙂
I think the picture is clear.
Truth is, things around interior design do not change as quickly as it may seem. Sure, sometimes it feels like it – but I guess it's just the echo of a fast moving world, as the biggest fashion brands need to change their "home" section every half a year. And that's about it.
All the rest of us may relax and enjoy one of a few good things the terrible 2020 gave to us: attention to our homes.
Photocredit: Unsplash
As an architect and interior designer, I've felt a huge weight of pandemic on my shoulders, but in a very different way than many others – I've had tons of work to do. The lifestyle of my clients has changed tremendously: so many of them bought bigger apartments, started remodeling or redecorating, decided to finally buy that lamp or finish that unfurnished room.
Funny thing: I don't even ask anymore if people are in need of a working station in their new homes – it goes by default now (when nobody, I mean it – nobody requested a place to work before 2020, if only for a bigger kitchen table just in case).
Photocredit: Jotun (elle.de), Pinterest
Yet working from home wasn't the only change last year. Shifted attitude towards design, aesthetics and cosiness of our own homes has been a key moment of a bigger change – realisation that we all need a place called home and we all want it to be beautiful. We've started to touch surfaces more often, to wander through walls and ceilings more carefully, to use spaces more functionally and to dream of a peaceful, inviting and a little bit surprising atmosphere in our homes.
Why surprising, you'd ask? By analysing how the pandemic switched my mood, my perspectives, the behaviour of my colleagues, clients and relatives I'd come to the point of discovering that us – human beings – need impressions, surprises and sensations to simply feel alive.
Photocredit: kristinadam.dk, archilovers.com, Pinterest
Therefore spaces that surround us must become somewhat of a discovery, a journey, a place full of sensations and surprises that we can create ourselves. Decorating homes has never been so important as it is today because thus we are able to bring cultures, art, travels and stories into our homes through interesting, captivating, artistic design objects. There are endless variations of your own imagination on how to mix and match works of craftmans, artisans and designers.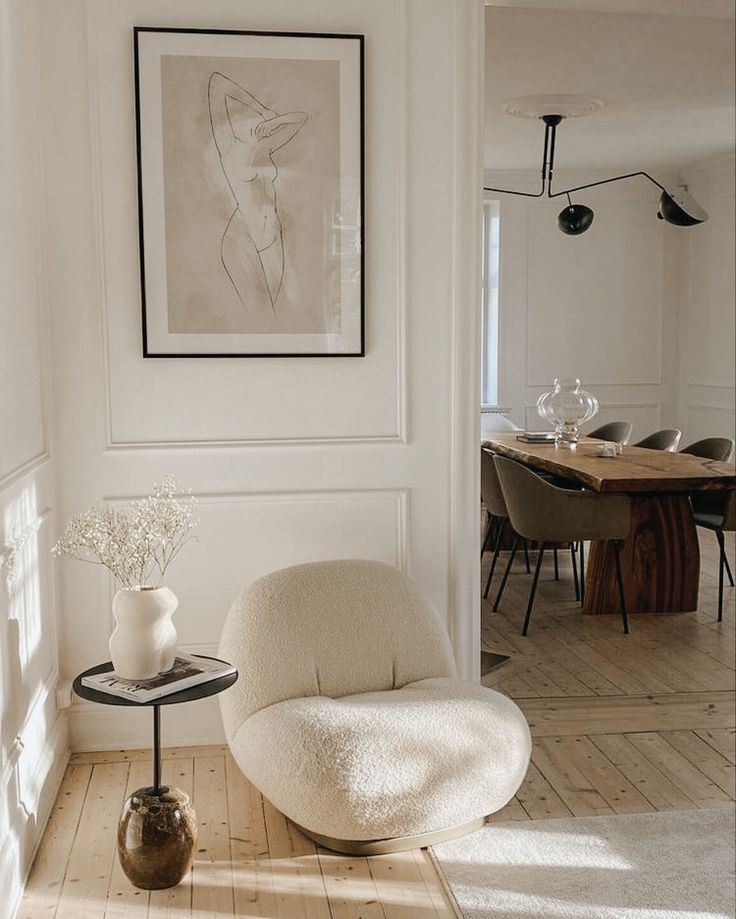 Photocredit: Pinterest
The world has slowed down. Finally, there is time to enjoy a texture of a clay vase, a beautifully uneven tone of handmade bowl, a gallery wall you've carefully picked art pieces for.
Less rush, more time to choose. Less fast design, more value. Less chaos, more peace created by things you actually love.

We are here to help you choose. Yours,
Nordinary home